Power Supply Evolution
Critics of computer evolution occasionally challenge true computer scientists to produce examples of computer evolution. The evolution of the computer power supply is an excellent example to produce.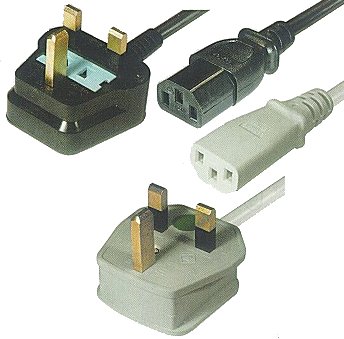 The Kettle Plug
Everybody is familiar with the power plug used on a computer. What non computer scientists fail to realise is that the computer power plug is almost identical to the power plug for a kettle, with some minor evolutionary adaptations.

The kettle plug is missing an extra notch, which prevents a regular computer plug from being used for your kettle. The reason for this is that computer leads have evolved to carry low amounts of current, whereas kettle leads need to carry high currents. This is how computer scientists know that computers historically required larger currents to operate than they these days.

It is something of an evolutionary anomaly that the kettle plug can be used in a computer. However, when you actually try this, you will see that the kettle lead is a little short. Computer power leads have evolved longer length to enable them to reach all the way from the top of your desk to the power plug or extension lead.

You can picture the prehistoric computer, drawing a large amount of current through a kettle plug. As the computer evolved over millions and millions of CPU cycles, it required less current, and so the need for the kettle notch was eliminated. Longer leads also meant that you could choose to put the computer on your desk, instead of under it, and present an evolutionary advantage.
The Wall Plug
Computers have historically supported a number of different power connections. Because of natural selection, there are currently only one or two connections in use in a given country. This shows that other forms of power connection are eliminated by natural selection.

Computer wall plugs do differ in colour and shape, but their basic mechanical design is the same in any one country.



---
We appreciate feedback of a pro-computer evolutionary nature from our readers. If you have any ideas, comments, or suggestions for articles please let us know.
---